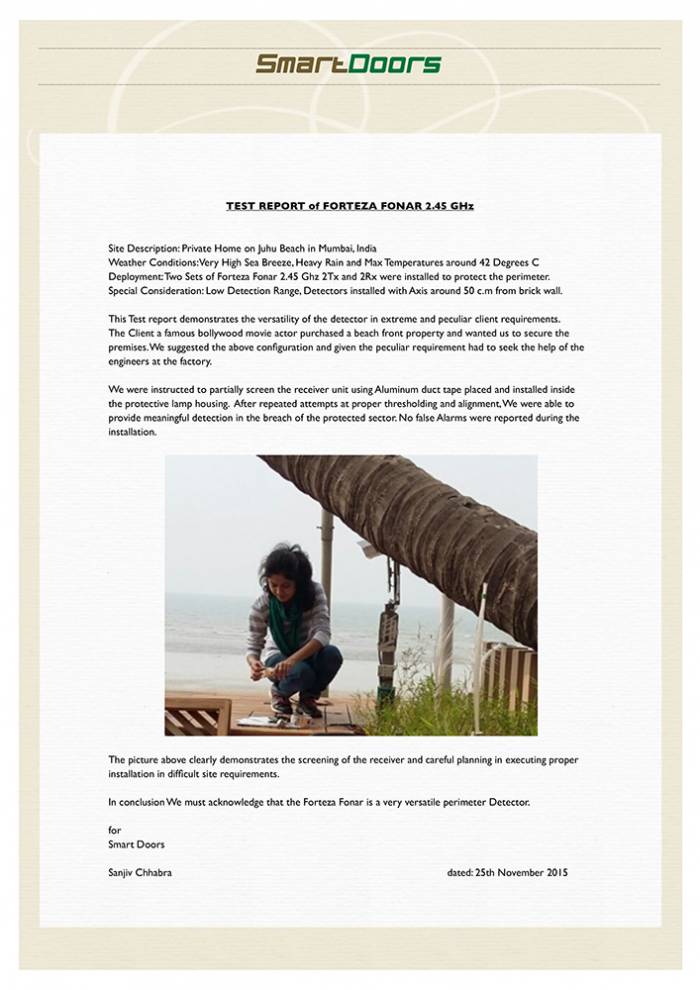 Site Description: Private Home on Juhu Beach in Mumbai, India.
Weather Conditions: Very Hight Sea Breeze. Heavy Rain and Max Temperatures around 42 Degrees C.
Deployment: Two Sets of FORTEZA-FONAR 2 Tx and 2 Rx were installed to protect the perimeter.
Special Consideration: Low Detection Range. Detectors installed with Axis around 50 cm from brick wall.
This Test report demonstrates the versatility of the detector in extreme and peculiar client requirements. The Client a famous bollywood movie actor purchased a beach front property and wanted us to secure the premises. We suggested the above configuration and given the peculiar requirement had to seek the help of the engineers at the factory.
We were instructed to partially screen the receiver unit using Aluminum duct tape placed and installed inside the protective lamp housing. After repeated attempts at proper thresholding and alignment, We were able to provide meaningful detection in the breach of the protected sector. No false Alarms were reported during the installation.
The picture above clearly demonstrates the screening of the receiver and careful planning in executing proper installation in difficult site requirements.
In conclusion We acknowledge that the FORTEZA-FONAR is a very versatile perimeter Detector.
Sanjiv Chhabra