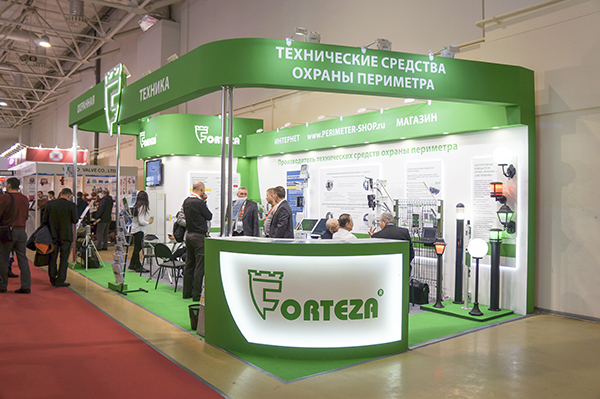 The biggest in Russia exhibition of security and fire protection equipment and products Securika Moscow 2018 took place from 20 to 23 of March, 2018 in Expocentre Fairgrounds (Moscow).
More than 400 companies from 24 countries participated in the exhibition. Russian and Foreign designers, manufacturers and suppliers of security equipment for different sites presented their latest conceptions and samples of up-to-date products.
We presented many samples of produced equipment on the stand of our company OOO Okhrannaya technika (ТМ Forteza Russia). The guests had the chance to estimate the sensors performance and the possibilities of configuration using the computer via the interface USB, using the tablet or smartphone via the wireless interface Bluetooth and remotely via the interface RS-485.
This year our company prepared a range of new products for the visitors of the stand. We presented for the first time:
- new modification of Microwave Bistatic sensors FORTEZA-M.
- new Microwave Monostatic sensor FM-42(24), with a wide pattern in vertical plane and narrow pattern in horizontal plane.
- data collection and processing system FORTEZA-PERIMETER, for monitoring of connected sensors and visualizing of information on their state.
We are sure that the meetings and negotiations held with our partners will be the next step in long term mutually beneficial cooperation.
We are very grateful to all the visitors of our stand. During the communication with the visitors we gathered the wishes for the equipment produced, we are sure to consider every comment.
We appreciate the positive reports on reliable and stable performance of TM Forteza equipment from our loyal customers.
Forteza Team.