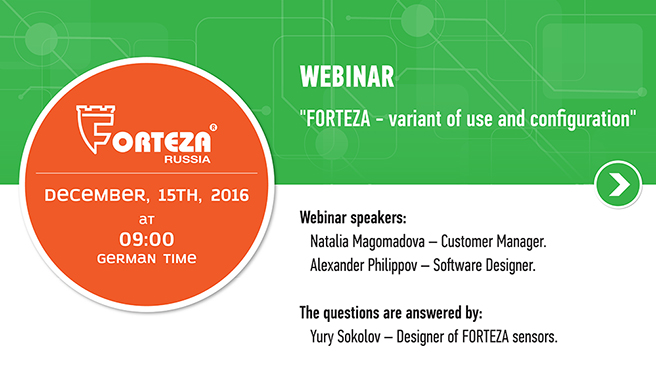 Dear partners and clients!
Bistatic sensors FORTEZA is the topic of our following German language webinar on December, 15 at 09.00 German time.
You will get information on the sensors principle of operation, modifications, application and installation in real time.
Bistatic sensor for perimeter protection is a classical solution and it is always actual for the protection of big industrial and small sites.
May be you are working on such a project now?! That is why our webinar would be useful for you.
Plan of the webinar:
1. Principle of operation.
2. Different modifications.
3. Sensor control units.
4. Requirements for mounting and the exclusion zone.
5. Application.
Webinar speakers:
Natalia Magomadova – Customer Manager.
Alexander Philippov – Software Designer
The questions are answered by:
Yury Sokolov – Designer of FORTEZA sensors
Welcome!!!